#40- Ten Pinterest Recipes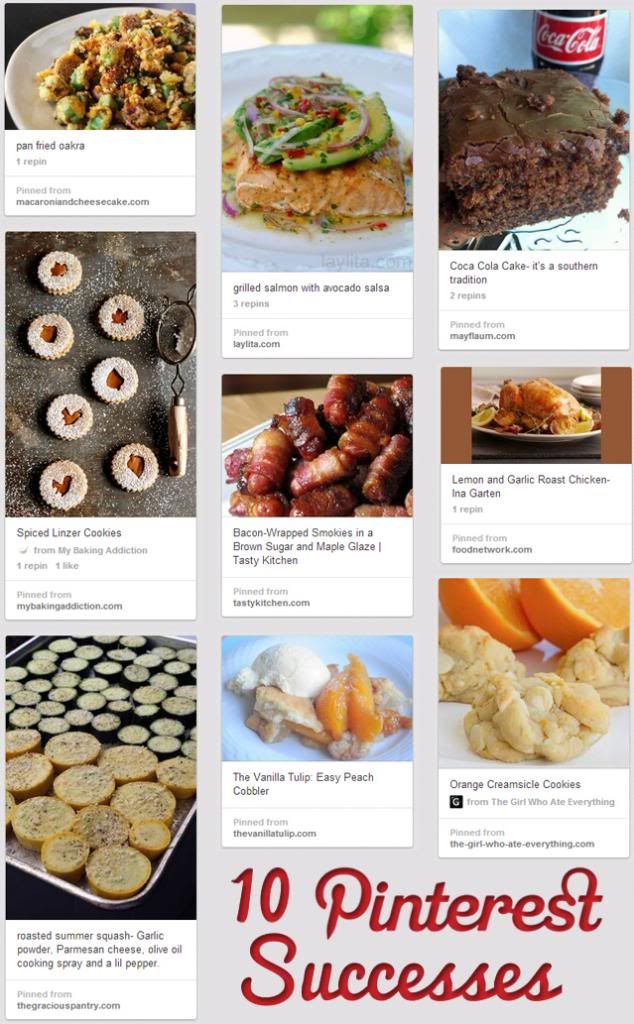 {Click on the individual images above to be taken to the original source or click on the links below to read my post about these yummy dishes!}
1.
Pan Fried Okra
2.
Grilled Salmon
3.
Coca Cola Cake
4.
Spiced Linzer Cookies
5.
Bacon Wrapped Smokies
6.
Vanilla Bean Cupcakes
7.
Roast Chicken
8.
Summer Squash
9.
Peach Cobbler
10.
Orange Creamsicle Cookies
I haven't written a post about these cookies yet so I'm tacking it on here.
Cookies, and baking cookies in general, is not really ideal for the hot temperatures we're experiencing. But the orange citrus flavor and the softness made them so light and perfect for summer. They don't really taste like a creamsicle (they're cookies...) but they were still so delicious! I made them for a care package and shipped them to Charleston (and took some in to the office to share). I think they may have melted and reformed on their trip down South but I still got encouragement to send more cookies!
#40
was an easy one to check off
my list
. I will definitely keep working my way through all those recipes I've pinned- I'd love to say I've tried them all one day!
Click here to follow me on Pinterest!